The 10 Most Ridiculously Adorable Things About Halsey's Boyfriend, Yungblud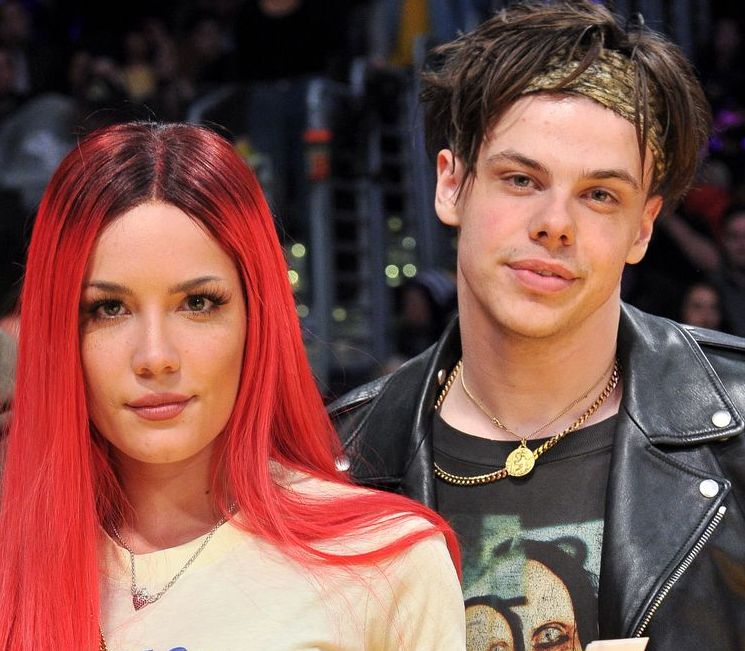 @COSMOPOLITAN

@Hannah Chambers & @Emma Baty
ICYMI, Halsey is Cosmopolitan's October cover star. (Wait, if you did miss it, you should definitely read the whole damn story here.) If you happened to notice the quick lil mention of her boyfriend, Yungblud, and wondered who he is…then, congratulations. You're in the right place. We arevery thirsty for Dominic Harrison (that's his real name) and would love nothing more than to share all the reasons.
First off, you should probably know the basics. Yungblud is a 22-year-old singer from Doncaster, England. His music is kind of a mix of genres, but you really just need to know that he's kinda emo. Halsey and Yungblud probably started dating sometime around last December, if we're judging from now-deleted Instagram posts. They also have a song together with Travis Barker called "11 Minutes." Anyway, he's freakin' adorable and it needs to be discussed.
1. LOOK AT HIM!
The cute little nose! That cheesy smile! His messy hair! Those big, moody eyes! If you can look at Yungblud without turning into Dory during that "I shall call him Squishy and he shall be mine" scene in Finding Nemo, you're a monster.
2. HIS ACCENT IS ALSO ADORABLE.
Everyone knows that accents get you immediate hot points. This is not even remotely up for debate.
3. HE CAN UNIRONICALLY USE THE WORD "MENTAL."
This might be directly related to the whole accent thing, but not everyone can pull off this word. Not even every British guy with an accent! It takes a certain kind of finesse, which this young lad seems to have. It's hot.
4. HE CAN PULL OFF EYELINER.
It doesn't matter how many smudgy eye makeup tutorials you watch on YouTube. Heavy eyeliner on the waterline is not a look that everyone can rock successfully. Yungblud can.
5. HE IS SERIOUSLY DEDICATED TO WEARING PINK SOCKS AND CREEPERS.
Everyone should be loved with the same level of passion that Yungblud has for pink socks and Underground Creeper shoes. And no, this isn't just the same ol' pair that he keeps rewearing. Homeboy definitely has a whole entire collection.
6. HIS NICKNAME IS DOM.
This might sound like a reach reason, but it just makes sense, okay? The name Dom is inherently cute. End of argument.
7. HIS FRIENDSHIP WITH MACHINE GUN KELLY WILL WARM YOUR HEART.
Let's get one thing abundantly clear: Machine Gun Kelly is hot. The tattoos, the goofiness, the blonde hair. It's just working for us (and him). By being friends with MGK, Yungblud is hotter by osmosis. That's science. Please enjoy this video as proof of the cuteness of their relationship.
8. HIS AFFINITY FOR DRESSES.
Look, it's 2019, and we stan a man who's secure enough to wear a dress. He's even thinking about adding unisex skirts to his merchandise line this fall. Put me down for two.
9. HE'S AN ACTIVIST.
This might not seem like the most obvious thing to be horny over, but guess what? It's 2019, and political activism is sexy. That's it. That's the whole entire tweet.
10. HE IS PROBS VERY FUN TO GO ON DATES WITH.
Imagine how fun a date with Yungblud would be! If he weren't happily tied to Halsey, we'd almost nominate him to be the next Bachelor. Chris Harrison, if you're reading this…take notes. We want to see cute boys in leather jackets riding the carousel at Disneyland. Got it?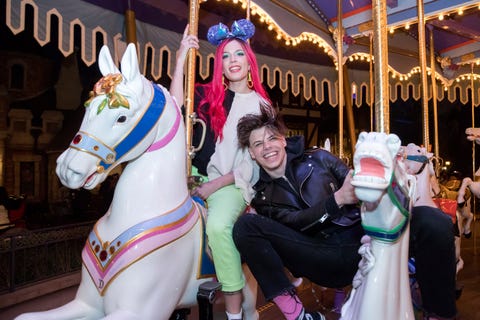 *HANDOUTGETTY IMAGES