The biggest wedding trends for 2020, from dried flowers to sustainable feasts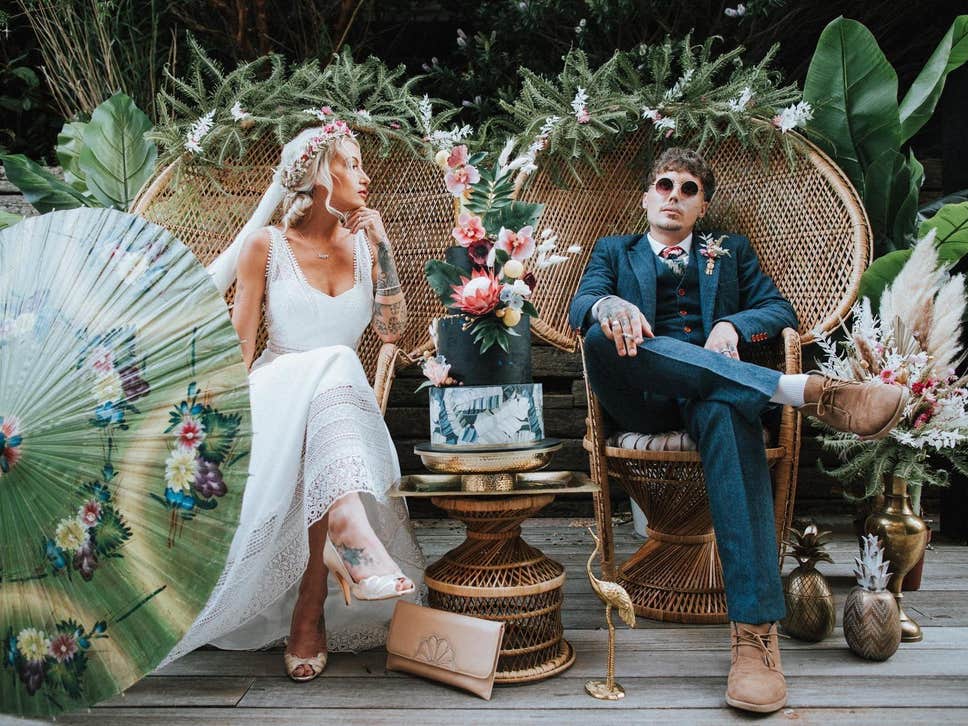 In an age of aspirational Instagram feeds and Pinterest boards, betrothed couples today are faced with an overwhelming amount of choice when it comes to starting to plan their big day. 
In recent years, cookie cutter traditions are increasingly being replaced with personal touches that represent the couple about to exchange their "I do's".
Now, guests can expect to be faced with far more than just the classic Princess-style gown and matching bridesmaids. From bridal suits to groups of bridesmen, nothing is off the table when it comes to celebrating the big day except, of course, stringent rules. 
"For 2020, couples will seek to create unique days, or even weekends, which truly reflect them as people," says venue styling and prop hire company This Will Be Forever. "This extends across every aspect from food to the dress, decor and even entertainment."
So what are the biggest trends due to take hold next year? From wedding planners and makeup artists to caterers and dress designers, The Independent spoke to some of the leading experts in the world of weddings to reveal the nuptial mood for 2020.  
The wedding dress: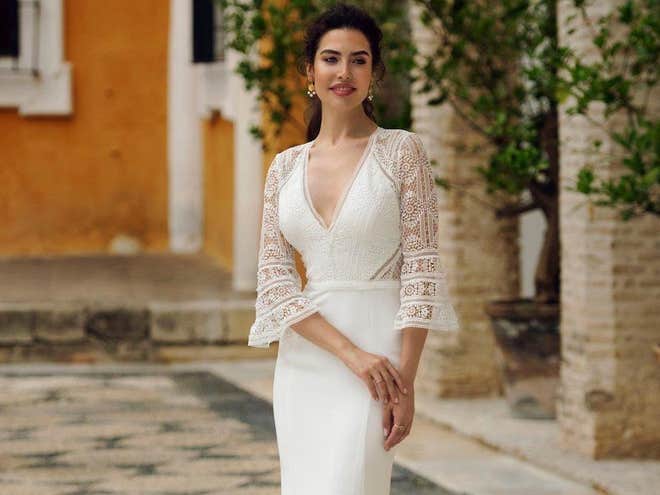 While many women dream of wearing a big white gown on their wedding day, for some it can feel a little too restrictive a choice.
Luckily, wedding dress trends for 2020 mean that brides-to-be can get the best of both worlds, with designs that fit the bill while allowing the wearer to express their own personal style.
According to Gemma Green, company director of bridal boutique Bow's Bride, the boho trend that reigned supreme in 2019 weddings is going nowhere.
"As we all know wedding dress trends come and go but we have seen so much love for the boho look this year and we feel this will continue into 2020," Green says.
For others, Green expects more dramatic styles to come to the fore next year.
"Styles like ruffles, fringing, pearls, earthy colours and sleeves will be everywhere. We are definitely finding less of a demand for the traditional wedding dress, with a carefree, romantic look."
This shift towards more contemporary silhouettes is felt across the board, with London-based fashion label Ghost extolling the virtues of gowns which carry subtle nods to of-the-moment fashion trends.
"The key details for dresses are statement necklines and attention to sleeve details," says Sameera Azeem, creative director of Ghost.
"This could be the Bardot necklines and long or puff sleeves, much like the current ready-to-wear trends."
Azeem adds that bridal tailoring is also on the rise with many modern brides opting for trouser suits and jumpsuits instead of traditional gowns.
For wedding dress designer Catherine Deane, one of the biggest shifts in trends for next year will be colour, with more and more brides opting for softer hues and metallic finishes.
"Spring/Summer 2020 is going to be an exciting time for Bridal," Deane says.
"Expect combinations of metallic and glitter detailing added to sheer fabrics, which will have more of a subtle sultriness than the traditional sweetness associated with a little sparkle".
Hair and makeup: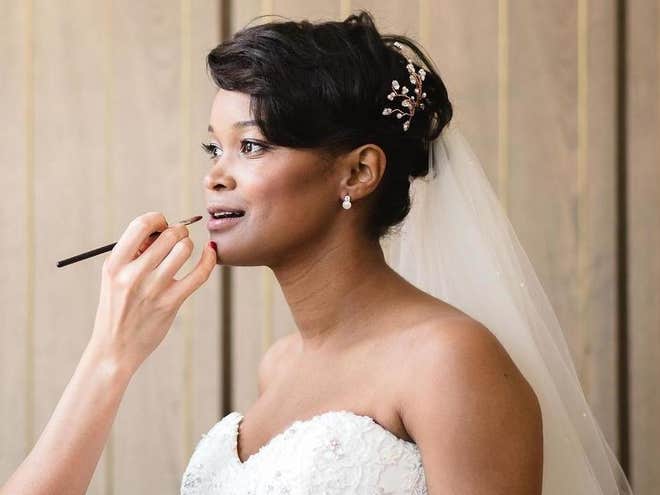 Your wedding day is likely to be the most photographed day of your life and while it can be tempting to go for a bold new look, renowned makeup artist (MUA) Nicola Chapman Haste insists that bridal makeup should never follow trends.
"It's all about you being the best version of yourself," she says.
"If your signature look is a red lip, go for a red lip but if you have never worn one before and are thinking about wearing it on your wedding day, I wouldn't. Your wedding day is not the time to test out something new."
Bridal hair and makeup artist Gemma Sutton agrees, adding that the styles you choose should "enhance your natural beauty rather than masking it".
Both MUAs suggest starting early with skin prep to get the most out of your bridal look, while Sutton reveals that many of her 2020 brides have been opting for looks that consists of natural, dewy skin and deep pink lips.
When it comes to hair, accessories are a key component with celebrity hair stylist Larry King encouraging 2020 brides to "think out the box".
The salon owner created a number of hair looks for the latest Ralph & Russo Couture show, which included intricate braiding, soft finishes and entwined strings of pearls.
Similarly, King also created a total of five different hair looks for fashion blogger Victoria McGrath, aka inthefrow, to complement each of her different outfits at her wedding earlier this year, including a swishy power dressing ponytail and 50's-inspired beehive.
The National Wedding Show agrees, adding that a number of its makeup and hair exhibitors have showcased everything from diamante-filled fishtail plaits and glittering hair vines. 
Food and drink: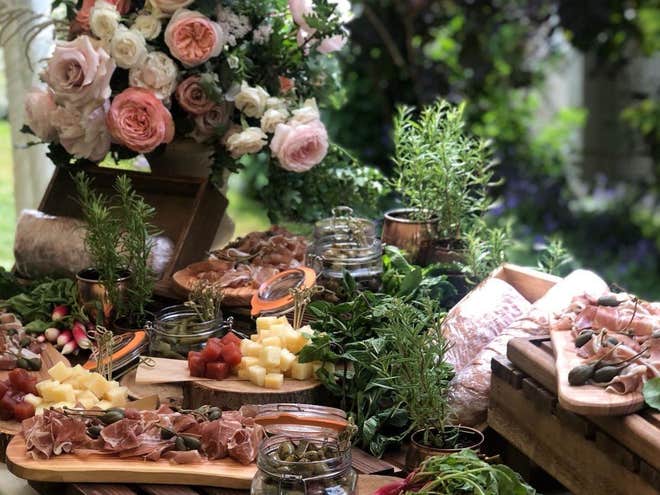 One of the biggest wedding menu trends set to skyrocket next year is the concept of grazing tables, says Hattie Mauleverer, founder of luxury boutique catering company Top Hat.
"The painful process of table planning could well become something of the past, as grazing tables are now the 'in' way to dine at weddings," she says.
"Grazing tables are areas filled with a mix of sweet and savoury snack options, to encourage your guests to come back for more."
Mauleverer adds that more and more couples are also turning to sustainable options with the trend for environmentally friendly living trickling down into weddings.
"From recycled paper for the invitations, to the sourcing of the lamb for your main course, caterers are increasingly being more and more challenged to source local and organic produce for their ingredients as well as coming up with innovative ways to utilise 'ugly' veg and anything from fish skin to chicken bones."
Alex Head, the founder of Social Pantry, a London-based catering company that has fed everyone from Gigi Hadid to Hillary Clinton, agrees, adding that "farm to table" food is fast-becoming a staple for contemporary nuptials.
"Clients are increasingly asking us to create menus that include home grown produce from their parents' gardens, their own products and to support nearby farms and their favourite local suppliers when designing menus," Head says. 
"We've got three weddings next year that are using home-grown produce, these include using home-grown vegetables for chutneys, sourcing summer berries locally, a 'Sussex Cheese board' and for one wedding we are even curing locally sourced salmon in family-made Limoncello!" 
The décor :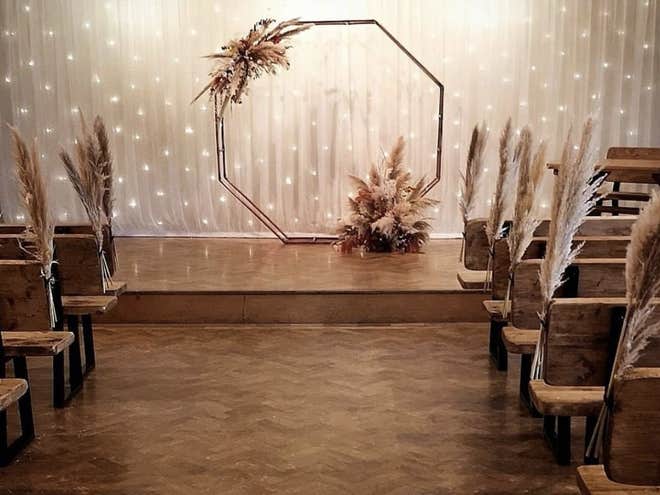 The endeavour to remain as sustainable as possible doesn't have to end with your celebratory feast.
According to This Will Be Forever, couples are choosing statement décor pieces for their wedding which they can go on to repurpose for their homes afterwards.
"Neon lights and bold signs will be huge in 2020, particularly with hand painted typography and patterns," the company says.
"This extends onto flowers, with dried flowers becoming increasingly popular and being used throughout the decor, bouquets and even in hair pieces."
Leah Stageman, founder of Boho & Bloom Prop Hire, agrees, adding that an increasing fascination with 1970s bohemia has championed the return of sustainable, locally grown wild flowers and dramatic dried offerings.
"Dried palms, pampas plumes and unusual grasses will be used to create lush bohemian backdrops and wild bouquets," Stageman predicts.
"From vibrant wedding stationery and disco balls to retro peacock chairs and macrame, the 70s are back."
Wedding planner Helaina Storey has also witnessed a growing trend for nearly-weds opting for dry hire venue options for complete flexibility and a blank canvas.
She explains that the appeal lies in couples having the ability to put their own individual stamp on their big day.
"We are also noticing a rise in weddings taking place at couples' family homes when the space allows, and expect this to continue through 2020 and beyond," Storey says.

The bridesmaids: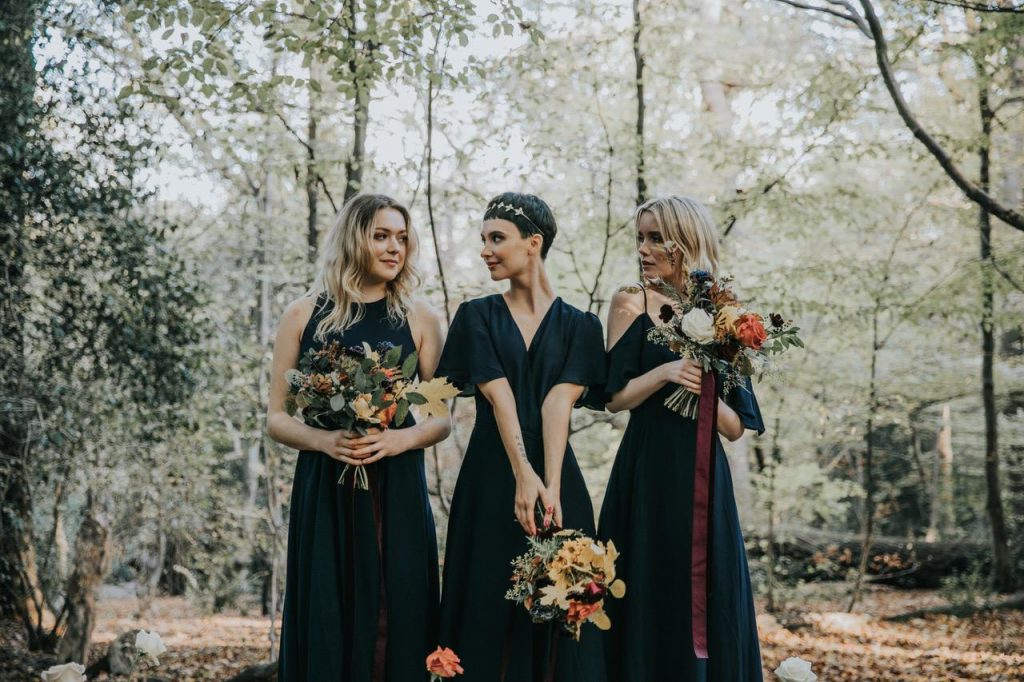 The way you choose to dress your bridal party has evolved, with many modern brides choosing to eschew matchy-matchy pastel looks for outfits that incorporate their friends' personalities into their big day.
Frances Cookson and Katie Arnott, co-founders of fashion label Rewritten London, say that it is important to remember that bridesmaid dresses are "definitely not one style suits all".
"Our brides come to us because they want a modern, mismatched look with 99 per cent of our bridal parties combining dresses, jumpsuits and separates," says Cookson and Arnott.
"Brides are getting bolder in their colour choices too. We are seeing vivid coral getting more and more attention and our Soho jumpsuit that launched in Spring has since become a best-seller."
Azeem agrees, adding that bridesmaids no longer feel the need to wear one uniform colour or style.
"There has been a shift and it is now more about mix and match styles in contrasting colours and shapes," she says.
"This trend is much more personal and allows each individual to express their personality."
Azeem adds that Ghost designs its range of bridesmaid dresses so that they have dual purpose, meaning they can be worn again after the wedding.
"Weddings are expensive and so we as a brand have reduced our retail price points on our occasion wear collections," Azeem says.
"Our collections also have more of a nod to our ready-to-wear ranges, so they less formal and more wearable."


Image Source:*(Boho & Bloom Prop Hire)

Source:independent.co.uk